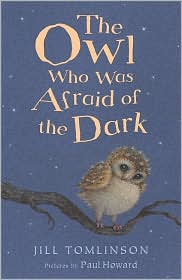 Plop is an adorable little baby owl who is afraid of the dark. I think this is a very clever idea, because there is no such thing as an owl who is afraid of the dark and no one really knows how a owl would react if it did feel like that.
Plop's mother sends him out to find out about the dark, hoping this will stop him being scared. He meets a boy, an old lady, a girl and many other people, and they tell him about the dark and why they like it. He learns lots of things through meeting these people, and he finds out that the dark is actually really exciting.
I love this story and would recommend it 100 percent for 5 -8 year olds, especially animal lovers. I think it's a very good book, with a very good story. I also think Plop is a funny name. I would only call a raindrop "plop"!